Hearty Soups To Combat The El Norte
The fishermen, the locals, the pelicans, sea gulls, terns, frigate birds, and flamingos all have an uncanny ability to sense an approaching El Norte. On the Yucatan coast during the months of January and February the El Nortes can whip up with no warning. One moment the gulf of Mexico is still as a pale emerald green sheet of glass; the sky a cloudless deep blue. The next moment the sky turns black and the wind begins to roar across the sea.
Surprisingly, when the last El Norte struck, a few days back, even the fishermen were caught off guard…despite a flaming-red morning sunrise that surely portended rough seas. In a matter of minutes the winds swept down from the north and churned up the waves. We watched in awe the astonishing feat of larger boats, out at sea, scurrying with poles and ropes to piggy-back on board smaller vessels, cross-ways, sometimes two at a time, and towing them back to shore. On shore there was chaos and camaraderie among the fishermen as jeeps and vans appeared on the beach and hoisted ropes onto the boats and dragged them up on the sand.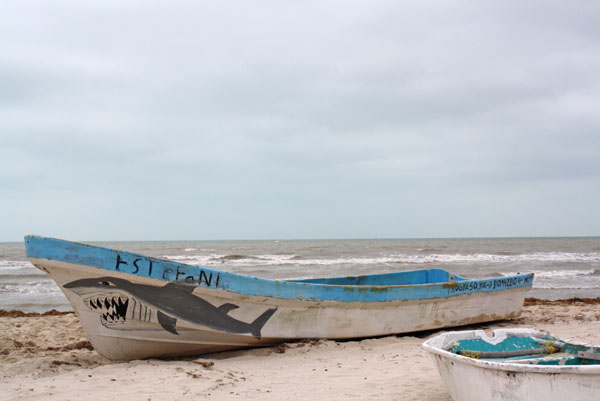 When the wind begins to howl and whistle and rattle the shutters, often for four days at a time, you can hunker down with a book, travel inland and explore the beautiful colonial city of Merida, or if you are crazy you can defy death and go kite boarding as many do during the El Nortes. Better yet you could head into your kitchen and cook up a pot of steaming soup to soothe your nerves… not that I ever need an excuse to make soup. Tempest or no tempest our kitchen is seldom without a pot of vegetable soup made from whatever vegetables happen to look fresh in our local mercado.  Included below is a recipe of our house soup as well as recipes for soups I have become addicted to here in the Yucatan. I play around with all recipes depending on what happens to be available and my mood, and you might enjoying doing the same.
Nothing beats a homemade chicken broth (scroll down for recipe at the end) but in a pinch use a low sodium store bought broth. The local markets in the Yucatan sell bags of what translate into English as powdered chicken consommé, consommé de pollo.
Our House Soup:
1. Approximately 8 cups of chicken broth (or your favorite vegetable broth)
2. A couple carrots cut into chunks
3. 1 Onion thickly sliced
4. 4 or 5 Cloves of garlic smashed with the flat part of a knife, peeled and chopped
5. 1 large tomato cut into chunks
6. 1 Calabaza (if you can find it) or zucchini cut into chunks
7. 1 Chayote cut into chunks (optional)
8. Half a cabbage sliced in large chunks
9. A handful of spinach and/or swiss chard, or any other leafy greens
10. 1 Teaspoon of chopped fresh ginger (optional)
11. 1 small teaspoon Jalapeño pepper chopped fine (adjust to your level of tolerance)
12. Dash of turmeric powder (optional)
13. Juice of one lime or half a lemon
14. Chopped fresh cilantro.
Preparation:
In a large soup pot bring the broth to a boil. Throw in the carrots, onions, garlic, ginger, turmeric and tomatoes and simmer over medium heat. After 6 or 7 minutes add the jalapeños, calabaza and chayote. When the vegetables are almost cooked add the cabbage and swiss chard. Cook for another few minutes. Turn off the heat and add the spinach, lime or lemon juice and garnish with cilantro and serve.
Sopa de Lima
Yucatan Lime Soup (the limas used in Mexico are more like key limes, if you can't find them use a combination of lemon and limes).
My version of this soup is very basic. While the tortillas added to the soup are traditional, I prefer it without the tortillas and in a restaurant ask to have them on the side.
1. Approximately 8 cups of chicken broth
2. Half cup lime juice
3. 1 Tablespoon Coconut oil, sunflower oil or olive oil
4. 1 large onion chopped
5. 1 small teaspoon chopped Jalapeño pepper or to taste
6. 4 or 5 cloves of garlic smashed with the flat part of a knife, peeled and chopped.
7. 2 cups shredded cooked chicken (from chicken used to make the broth or left over roast chicken)
8. Two large tomatoes roughly chopped
9. Salt to taste
10. Lime wedges for garnish
11. Chopped fresh cilantro for garnish
12. 4 Corn tortillas cut into strips and crisped on a baking sheet in a 350 degree oven for 3 to 5 minutes
Preparation:
1. In a large soup pot heat the oil and lightly saute the onions and garlic until just translucent. Add the chopped tomatoes and jalapeños and cook until tomatoes have softened.
2. Add the chicken broth and lime juice to the pot, bring to a boil then simmer gently for about twenty minutes. Add the chicken until heated.
3. To serve place tortilla strips in bowls add the broth and garnish with lime wedges
and cilantro.
Caldo Tlalpeño:
This rich and fiery soup was first introduced to us by our friends Joanie and Michael. The unlikely setting was a restaurant in Merida, Sanborns: a chain restaurant plunked in the middle of a sterile shopping mall. But one taste of the soup and I understood why they have made it a weekly ritual to make a meal out of this soup. The soup (caldo) is named after a community on the outskirts of Mexico City – Tlalpan. There are probably as many variations of this soup as there are Mexicans. In the version I have concocted I have tried to recreate the soup I first tasted. The base is similar to the sopa de lima, but with added ingredients.
1. Approximately 8 cups of chicken broth
2. 1 Tablespoon Coconut oil, sunflower oil or olive oil
3. 1 large onion chopped
4. 1 Or two drained canned chipotle peppers in adobo, chopped (these are really hot, but give the soup its distinctive smoky flavor)
5. 4 or 5 cloves of garlic smashed with the flat part of a knife, peeled and chopped.
6. 2 Cups shredded cooked chicken (chicken from the broth or left over roast chicken)
7. One large tomato roughly chopped
8. 2 Carrots thickly sliced
9. 2 Cups of green beans sliced in 1 inch pieces (or zucchini)
10. 1 Sprig fresh epazote (a traditional ingredient for this soup but might be hard to find outside of Mexico. Omit if you can't find)
11. 2 Cups canned chickpeas drained
12. 1 Cup cooked rice (optional)
13. 1 Cup Manchego or Monterey Jack cheese cut into chunks (omit if lactose intolerant)
14. 1 Avocado peeled and sliced
15. 1 Cup sliced radishes
16. Juice of 1 lime
17. 2 Tablespoons fresh cilantro chopped
Prepartion:
1. In a large soup pot heat the oil and add the onions and garlic. When translucent add the tomatoes, green beans and epazote, if you are using it. Saute for a 4 to 5 minutes.
2. Add the chicken broth and chipotle and simmer until vegetables are just tender. Remove the sprig of epazote. Add the shredded chicken, rice, chickpeas and lime juice and simmer for about 10 minutes. Remove the sprig of epazote.
3. To serve, ladle the soup into four large soup bowls and garnish with chunks of cheese,  sliced avocado, radishes and cilantro.
Chicken Broth:
Recipe adapted from Eating Well
1 3-pound chicken, (or use parts, such as wings and backs)
4 stalks celery, (with leaves), trimmed and cut into 2-inch pieces
4 medium carrots, peeled and cut into 2-inch pieces
1 medium onion, peeled and quartered
6 cloves garlic, peeled
1 small bunch fresh parsley, washed
6 sprigs fresh thyme, or 1 teaspoon dried
1 tablespoon finely chopped fresh ginger
1 teaspoon kosher salt, or to taste
4 quarts cold water
Preparation
1.Combine chicken, celery, carrots, onion, garlic, parsley, thyme, salt and water in a large stockpot and bring to a boil over medium-high heat. Reduce heat to medium-low and simmer, partially covered, until the chicken is falling apart, about 2 hours. Skim the foam from the surface as it builds up.
2.Strain the broth through a large sieve or colander into a large bowl. Use a wooden spoon to press on the solids to extract as much of the broth as possible. Divide the broth among several shallow containers so it will cool quickly. Cover loosely and refrigerate overnight. Use a spoon to remove the fat that congeals on the surface.
Cover and refrigerate for up to 2 days or freeze for up to 3 months.
The addition of some cloves and cardamons while cooking the soup turns it into a sublime first course before a meal.
Sukanya Rahman © first published in Art Insider September 2010