Tarte au Citron á L'Île Saint Louis
Back in the sixties, as an art student in Paris, I ate most of my meals at a student cafeteria around the corner from the École des Beaux Arts; not the paradigm of haute French cuisine but cheap, always raucous with the air reeking of frites, Gauloise and very ordinary wine. My one indulgence every few weeks was to treat myself to the finest tarte au citron in the universe. Perhaps there existed finer ones elsewhere in the city, but the Boulangerie Patisserie des Deux Ponts was conveniently located on the Île Saint Louis right across the Seine from where I lived at the Cite des Arts. All I had to do was traverse the beautiful Pont Marie over to Rue des Deux Ponts and follow the enticing aromas of freshly baked baguettes and pastries that would fill the air around two each afternoon.
My routine was perfectly timed. I would buy my precious crumbly, buttery, tangy, lemony treasure and savour it as I strolled along the Quai de Bourbon by the river. I would pause a moment by the house where Rodin's muse Camille Claudel once lived and sculpted. Every now and then a passer by would shout out to me, 'bon appetit!' I would reach the Pont Louis Phillipe Cafe Tabac just as I licked the last succulent crumbs off my fingers, then settle down with a cup of espresso and watch life in the city go by.
On subsequent trips to Paris with my family it was our mission, excuse may be a better word, to seek out the finest tarte au citron in the city.  As visits to Paris became less frequent my quest was to seek out the best recipe for my great weakness. After a zillion trials and miserable failures, with the lemon curd curdling or oozing through cracked crusts I have come up with what I believe holds up pretty well to the Île Saint Louis original. It is definitely not for those of you counting calories or watching your cholesterol. It takes a little patience and time. What I do is make the crust one day and freeze it; prepare the lemon curd another day and refrigerate it (it will keep for a few days). A few hours before serving I assemble it and bake it for the last few minutes and let it cool before decorating it. Since I only make this for special dinners or lunches  I use a large 10 1/2 inch tart pan with a removable bottom. This will make at least 10 servings. You can reduce and adjust the proportions according to what size tart pan you might have on hand. While I love to cook I'm big on taking short cuts wherever I can, thus this quick pâte sucrée done in a food processor. Use your favourite tart recipe if you prefer, but good butter is a must.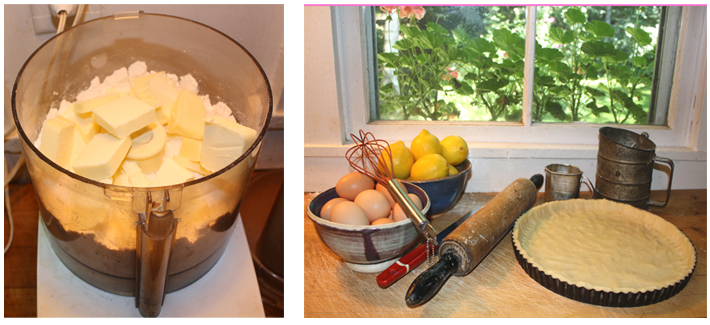 Ingredients for the pâte sucrée
2 Cups flour
4 Tbs sugar
1 Small egg lightly beaten
1 3/4 Stick chilled unsalted butter
Ingredients for the filling
9 Eggs lightly beaten
Juice of 3 large lemons
Lemon zest (about a tablespoon)
I cup sugar (or less)
2 Tbs softened butter
To prepare the tart crust
Sift flour into the bowl of your food processor fitted with a steel blade. Add sugar, and butter cut  into small pieces and pulse until crumbly. Add the egg and process just until a forms into a ball. Add a little iced water if needed. Remove the dough from the bowl knead briefly into a ball. Cover with plastic wrap and chill for at least an hour.
Now roll the dough out on a piece of wax paper or remove the bottom of the tart pan and roll the dough directly on it,  just to edges and slip back into fluted rim. Press dough into fluted rim and remove any excess dough with a sharp knife (if dough gets too soft to handle chill for a few minutes. Prick the bottom of the shell with a fork and chill for an hour.
Line the chilled shell with wax paper, fill with raw rice, beans or pie weights. Place crust in a preheated (380 degree) oven for 12 minutes. Remove the weights and paper and bake for another 10 minutes. Place on rack to cool.
To prepare the filling
In a heavy sauce pan combine the lightly beaten eggs, sugar, lemon juice and lemon rind. Cook the mixture over moderately low heat, stirring constantly with a whisk until thick enough to coat a spoon. Do not let it simmer. Remove pan from heat and place immediately in a larger pan of ice cold water. Stir in the softened butter and let it cool.
To cook the tart
Pour the filling into the shell and bake the tart in a preheated (425 degrees) oven for about 6 minutes. When cool enough to handle lift out bottom of the tart pan and carefully slide the tart with a spatula on to a serving platter. You can decorate the tart with a slice of lemon, or 'citron' written in chocolate icing which is traditional. I made this tart for my son's wedding and wrote the bride and groom's name on it with chocolate icing. It makes a grand presentation and tastes even better!