Mussels With Coconut Curry Sauce:
My secret recipe for a sinfully delicious, spicy take on steamed mussels has just been posted on the PeerTrainer health and diet site. Do try it out!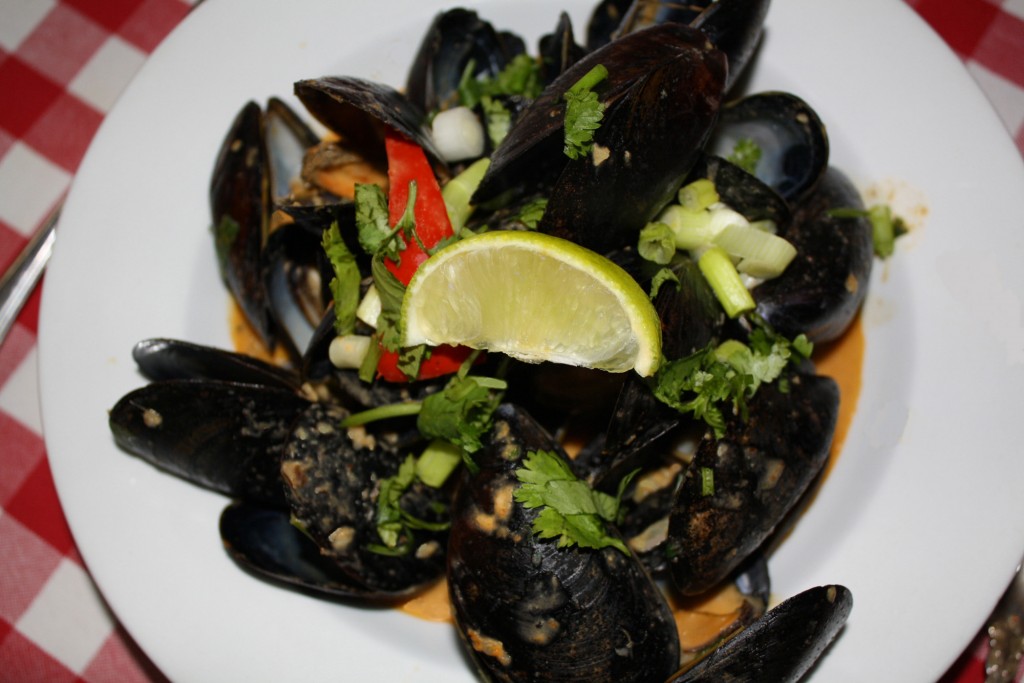 The sauce for these sinfully delicious and simple to prepare mussels can be made ahead. Just bring the sauce to a boil 10 minutes or so before serving and immediately throw in the mussels… or cooked lobster meat, crabmeat or firm fish. Also try using this sauce for mixed vegetables of your choice, but cook on low heat so coconut doesn't curdle. Double the recipe for a gang.
Ingredients 5 pounds mussels (preferably cultivated) scrubbed and rinsed.
Juice of approximately 3 limes
1 13 1/2-ounce can unsweetened coconut milk
1 tablespoon olive oil
1/3 cup dry white wine
1 1/2 tablespoons Thai red curry paste (or more)
1 1/2 tablespoons minced garlic
1 1/2 tablespoon (or as much as you want) minced ginger
1 hot red pepper or jalapeño sliced lengthwise
1 tablespoon slivered ginger
1 tablespoon sugar
2 cups fresh cilantro sprigs chopped
About 3 scallions sliced thin
1 fresh hot red pepper sliced in two length wise (optional)
Preparation Scrub mussels well and remove beards. (just need to rinse for cultivated mussels). Sauté garlic and ginger in olive oil for about 10 seconds. Add curry paste, wine, sugar and coconut milk. Mix well and cook over high heat for about two minutes. When sauce begins to bubble throw in the mussels, some of the cilantro and hot pepper and toss well. Cook mussels covered for about 5 to 8 minutes. Shake the pot a few times. discard any unopened mussels. Garnish with more cilantro, scallions, lime juice and slivered ginger. Serve with lime wedges. Serves 6 as a first course, 4 as a maine course.