Sukanya Rahman was born in Calcutta, India. She studied painting at the College of Art in New Delhi and at the École Nationale des Beaux Arts in Paris on a French Government scholarship. She also studied dance at the Martha Graham School in New York.  Her entrance into the world of visual arts has followed a circuitous route starting with a career as an Indian classical dancer. Her memoir, Dancing in The Family,  first published by HarperCollins/India, has been hailed as "a gem in the history of Indian dance."
Colour, movement and texture are the primary jumping off points for Sukanya's artwork.  Her mixed media constructions and digital works draw inspiration from a wide range of sources including Indian street art, popular American art,  and calendar art. Her current works on paper draw on some of these same sources as well as oriental prints and the vibrancy and flavours of Mexico where she spends her winters.  The materials incorporated into these creations are primarily handmade wood bark paper, silk paper, rice paper, handloom khadi paper, tempera, crayon and ink.
She has exhibited her works in select galleries from Chelsea and Soho in New York, to New Delhi, India. Her work has also been exhibited at The William Benton Museum in Storr's CT and at The Arts Complex Museum in Duxbury, MA.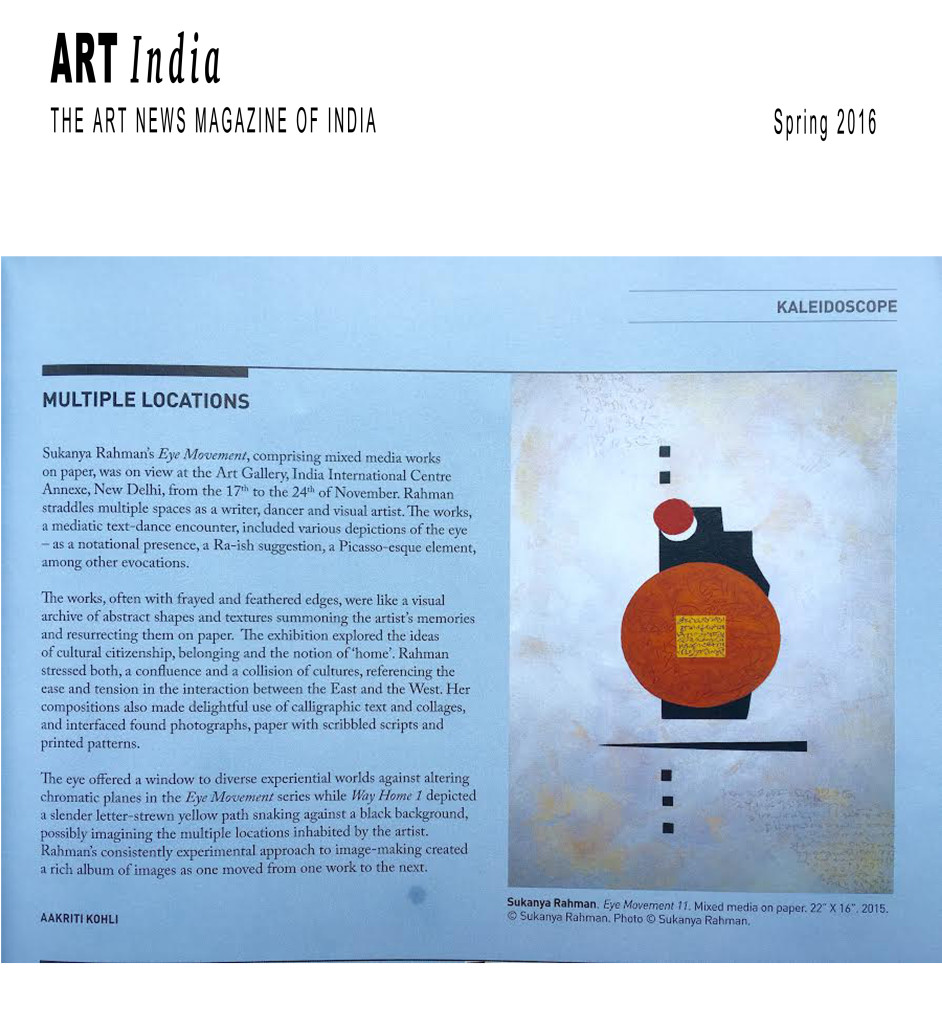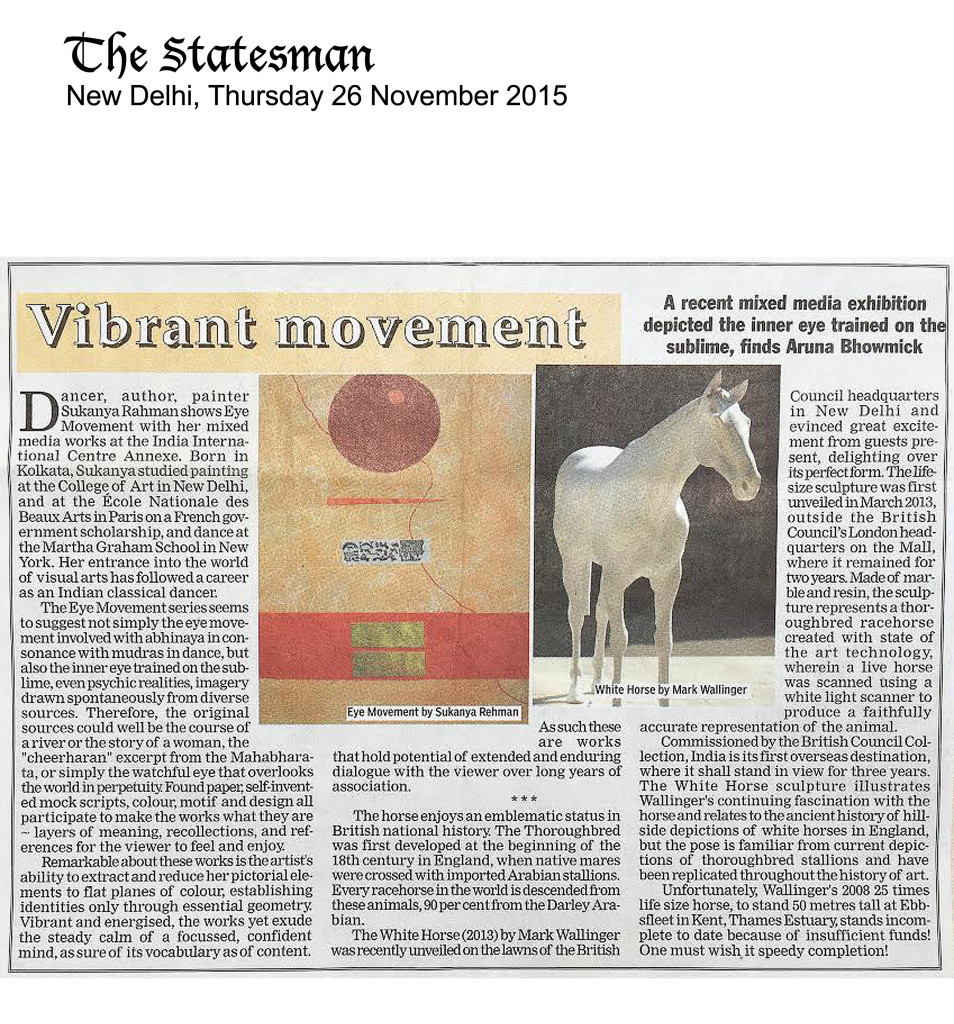 Select Exhibitions:
Soho Galleries, Merida, Mexico, February 2019
Eye Movement, Art Gallery India International Centre Annexe, November 2016
The Sahmat Collective: Art and Activism in India since 1989, The Fowler Museum, Los Angeles, April 2015
Soho Galleries, Merida, Mexico,  April 2015
The Sahmat Collective:
Art and Activism in India since 1989, Art Gallery of Mississauga, Toronto, July 2014
The United Art Fair 2013,  New Delhi, September 14 2013
The Sahmat Collective at the Ackland Art Museum, Chapel Hill, September 2013
The Sahmat Collective at The Smart Museum, Chicago, February 2013
Gun Point Cove Gallery, Orr's Island, Maine, July 2012
Gallery Project, Ann Arbor, Michigan, August 2009
M.F Husain Gallery, Jamia Millia Islamia, New Delhi, India  January 2009
Queens Museum of Art,  Flushing, NY October 2008
William Benton Museum of Art, Storrs, CT, January 2004 (part of permanent collection)
Vadehra Gallery, New Delhi, India  January 2004
Rabindra Bhavan, New Delhi, India December 2003
The Advocate Gallery, Los Angeles, CA June 2003
Fisher Studio, Bard College, Annandale NY  June 2003
Lehman College Art Gallery, NY, NY  February 2002
Art Complex Museum, Duxbury, MA May 2002
Gallery Espace/Habitat Centre, New Delhi, India March 2001
Brush Gallery, Lowell, Massachusetts February 2001
Nancy Margolis Gallery, New York, NY March 1999
South Asian Women's Collective, Gallery 678 New York, NY March 1998
Gallery 678, New York, NY  January 1997
Davidson & Daughters Gallery, Portland, ME April 1997
Review Excerpts:
"With small scale works of mixed media on paper, Sukanya Rahman presents a playful and lyrical suite of works.  Her mark-making is diverse, juxtaposing the expressionistic with the geometric, the calligraphic with the boldly reductive.  Collage elements further complicate the mix, allowing for printed patterns and found pictures to add their voices. These works are full of movement yet always achieve a careful balance, while Rahman's palette reflects her multiple influences living between India, the United States and Mexico".  Peter Nagy
"Sukanya Rahman's… collages  have much to recommend them… hers is an art of layering, of pulling together diverse sources, high and low, with no distinctions made".  Holland Cotter, The New York Times
"What is George Harrison doing at the battlefield of Kurukshetra? And isn't that Dick Tracy frolicking with Gopis in the water? The Taliban and Burkha-clad women, Buster Keaton, and Mother India crushing British rulers under her feet are all there. Like colorful butterflies, these images and objects have been impaled in tiny boxes by artist Sukanya Rahman at Gallery 678". Lavina Melwani, India Today International
"Aesthetically, Sukanya Rahman's works are assured and sophisticated. They are emotional and humorous and build tension between the understandable and non-understandable between Eastern and Western cultural references. It adds up to a sparkling performance". Phillip Isaacson, Maine Sunday Telegram